MSL Plant has a production capacity of 18000 MT per annum. MSL Factory has 11 acres of landscape with 200 Employees located in Madurai .
The Plant is Equipped with :

Machines for shearing and forging operations

Automated pneumatic Eye & Wrap round forming Machine

Walking Beam Hardening Furnace (Indirect Heat)

Drum type cambering machine with 8 stations for hardening

Conveyorised Tempering Furnace

Short Peening Machine

Scraging Machine

Conveyorised paint Booth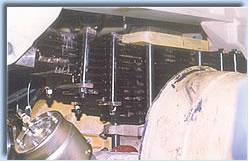 The Company has Skilled Employees at all levels
Quality Assurance

Testing facilities incorporated



Laboratory for chemical Analysis


Hardness Testing Machines


Spring Load Testing Machine


Spring Endurence Testing Machine
Operating Standards are well defined and Quality is Assured



On materials, by means of analysis like Micro Structure etc.


On Production, by means of periodical and random inspection in all processes.


On the final Product, by means of employing systematic check with check list etc.
We are having well Qualified and Skilled work force in Quality Assurance.